Don't Split the Party
A downloadable game for Windows and macOS
Don't Split the Party is a conversation-based experience where you play as a Dungeon Master trying to stop your friend group from falling apart during a game of Dungeons and Dragons. Make choices about what should happen in the campaign to keep your friends' in-character fights from turning into an out-of-character falling-out!
Feel free to tell us what you thought of Don't Split the Party by leaving us a comment or a rating. We'd love to hear what you have to say!
Writing and Design
Benjamin Bello (website & contact)
Nick Carbonara (website & contact)
Visual Art
Snippy Nguyen (website & contact)
Music
Mathew Castin (SoundCloud)
Voice Talent
Caitlin Falls (as Brynn, contact)
Emma Raine (as Ruby, visit her game design, narrative design & art portfolio)
Benjamin Bello (as Franklin, website & contact)
Bryanna Gary (as Allison, contact)
Rilee Horowitz (as Lance, visit his game design portfolio)
VO Director

Benjamin Bello (website & contact)
Don't Split the Party makes reference to the tabletop roleplaying game Dungeons & Dragons, which is published by Wizards of the Coast LLC, a subsidiary of Hasbro, Inc. We do not claim to own Dungeons & Dragons in any way.

Don't Split the Party was created using the Yarn Spinner tool, which was created by Secret Lab Pty. Ltd. (source & license)
Don't Split the Party uses a C# script called "AspectUtility," which was found on this Unify Community Wiki page. The version of the script used in Don't Split the Party was written with contributions by users Eric Haines (wiki page), Akobylarek, Tomol (wiki page), Neil Carter (wiki page), and Panajev. "AspectUtility" is licensed under Creative Commons' Attribution-ShareAlike 3.0 Unported (CC BY-SA 3.0) license.

Door sound effects are from the BBC Sound Effects Library, bbc.co.uk - © 2018 BBC. (source)
"Dumbledor" Typeface by Graham Meade (source & license), and "Patrick Hand" Typeface by Patrick Wagesreiter (license).
Comments
Log in with itch.io to leave a comment.
the characters are written very realistically.
love the art and the voice acting is charming :D

This was a lot of fun! I really enjoyed each and every party member's personalities, and how much you could feel Brynn holding them together (or not together) every step of the way.

Thank you so much for sharing this with us!

Thanks for the kind words! We really appreciate the feedback, and we're glad you enjoyed the game. :)
I really liked it! It was very cute and fun, and the campaign seems interesting too!
Very nice game! The Windows executable also works very well on Ubuntu 16 with wine 4.0.1 (the current stable release).

Thanks so much, we're glad you like it! Also, thanks for the note about the game working well with Ubuntu and Wine. That's good to know!
Hi, love the idea of this game! However, trying to play it on my Macbook, I can't seem to see the whole screen, missing out on quite a bit of the text. Any suggestions for how to bypass this? I have tried changing the resolution to pretty much all different options.

Hoping for a solution so I can enjoy your game!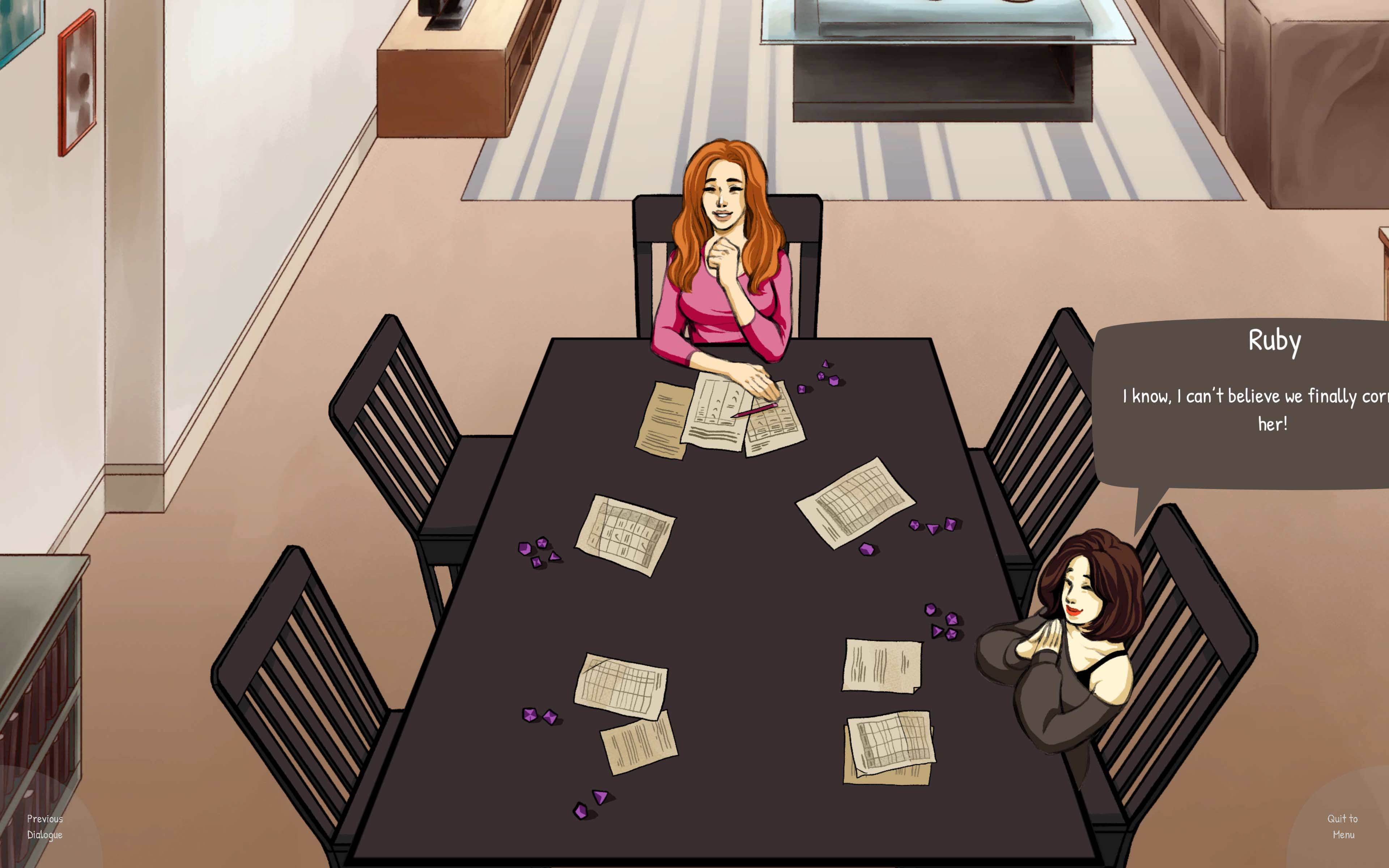 Hi, thanks so much for downloading our game! We're looking into this, and we'll try to get an updated build out as soon as we can. Sit tight!
Great, the new version worked! Related to this situation sooo much! A very enjoyable and believable DM simulator. Great work! :)